FEATURES
Sailwind Winter Thermal Unisex 3.7V 2500mAh Electric Rechargeable Heated Sock With 3-ModeTemperature Control, which is made of soft and comfortable material and designed with 3 adjustable temperature levels, can be quickly heated in seconds, and a single charge can last up to 10 hours of long-lasting warmth, the highest temperature can reach 110-140℉, is great for winter cold feet.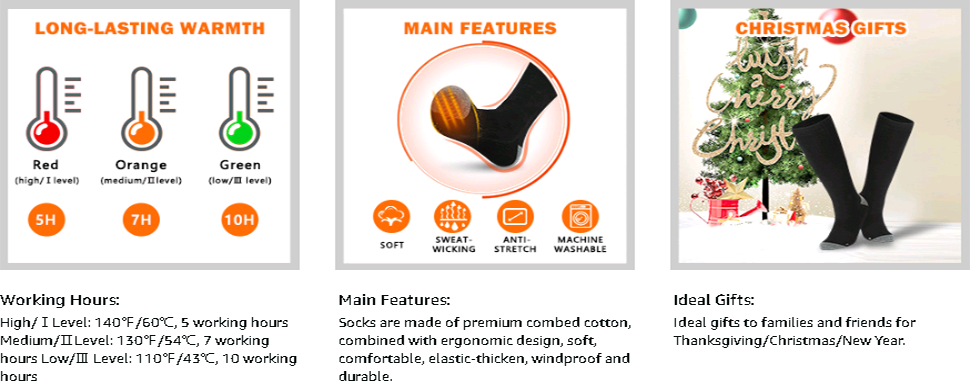 Ideal for various occasions, including the daily commute and outdoor activities, such like hunting, skiing, snowmoble, cycling, ice fishing, camping.
1. Please charge the two batteries fully before the first use. 2. Connect the li-ion battery with the wire which located in the sock's inner pocket. 3. Press the button on battery for 3 seconds until the Red (high/Ⅰlevel) light. Press it again to switch the other heating modes, Orange (medium/ Ⅱlevel), Green (low/Ⅲ level). 4. Long press the button for 3seconds at any mode, it will be turned off.
High/ⅠLevel: 140℉/60℃, 5 working hours
Medium/ⅡLevel: 130℉/54℃, 7 working hours
Low/Ⅲ Level: 110℉/43℃, 10 working hours
1 x Pair Sailwind Heated Socks
2 x 3.7V 2500mAh Rechargeable Li-ion Batteries
1 x Micro USB Charge Cable
1 x User Manual
100% Money Back
Guarantee