This Sailwind heated 90% down jacket is insulated with exclusive, high-fill power duck down to increase softness and compressibility for superior warmth and performance.

Ergonomic 3D-structured cutting and ultra-lightweight insulated down provide enough comfort for outdoor life.
SPECIAL HEATING ELEMENTS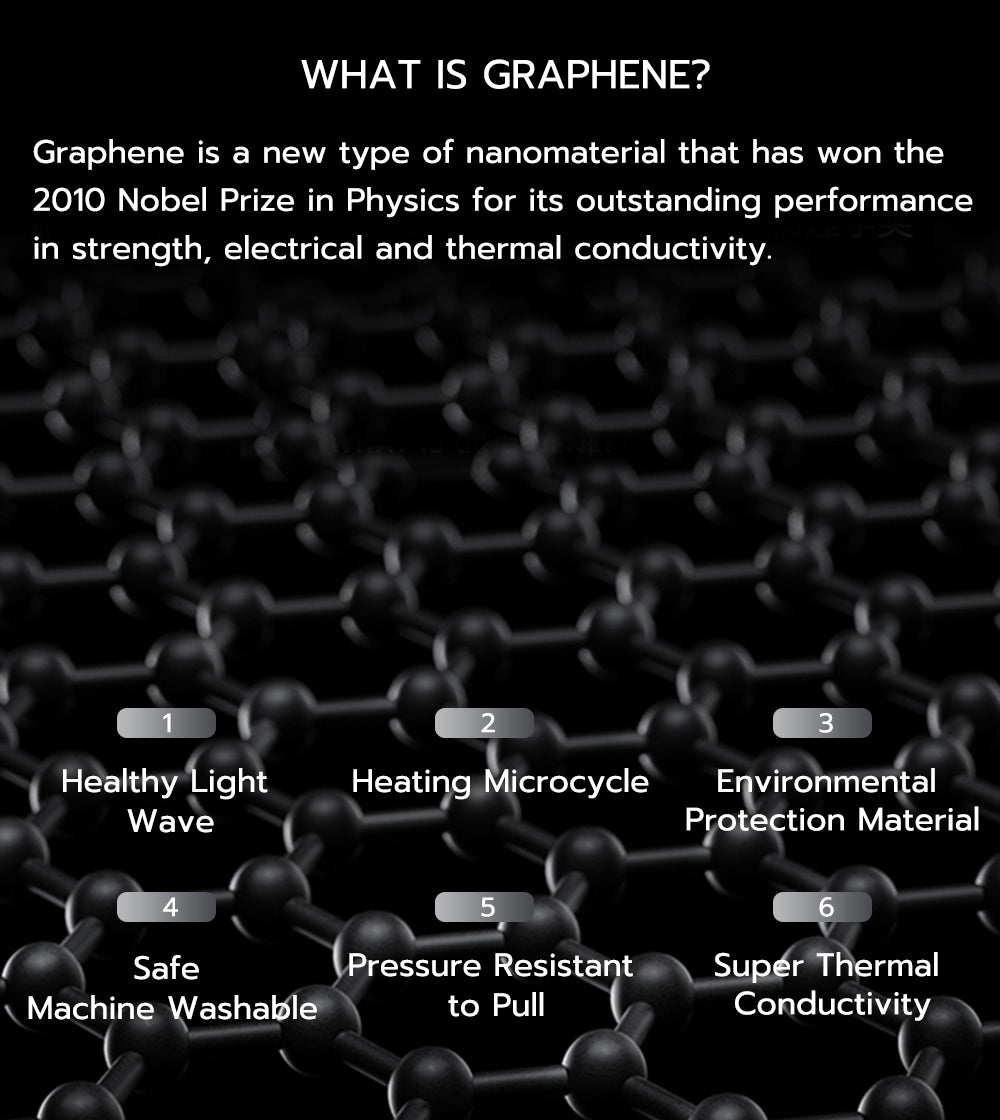 Graphene Heating Diaphragm — Nobel Prize-Winning Material
With excellent optical, electrical, mechanical, and other characteristics, it is leading the future high-tech competition of the super material known as "Black Gold."
Compared with existing materials, graphene is more excellent in ultra-thin, electrical conductivity, thermal conductivity, flexibility, hardness, etc. It is a new nanomaterial with the thinnest, most robust strength and the most substantial electrical and thermal conductivity.
Higher cost than other materials
Nanomaterial graphene is more stable, has a longer life than carbon, and costs more than three times as much as carbon fiber.
The thermal conversion rate is greater than 99%
The carbon molecules in the electrically charged carbon fibers do "Brownian motion," which generates about 85% of the far-infrared radiation while generating heat. This is the most suitable 8-15 μm life light wave for the human body.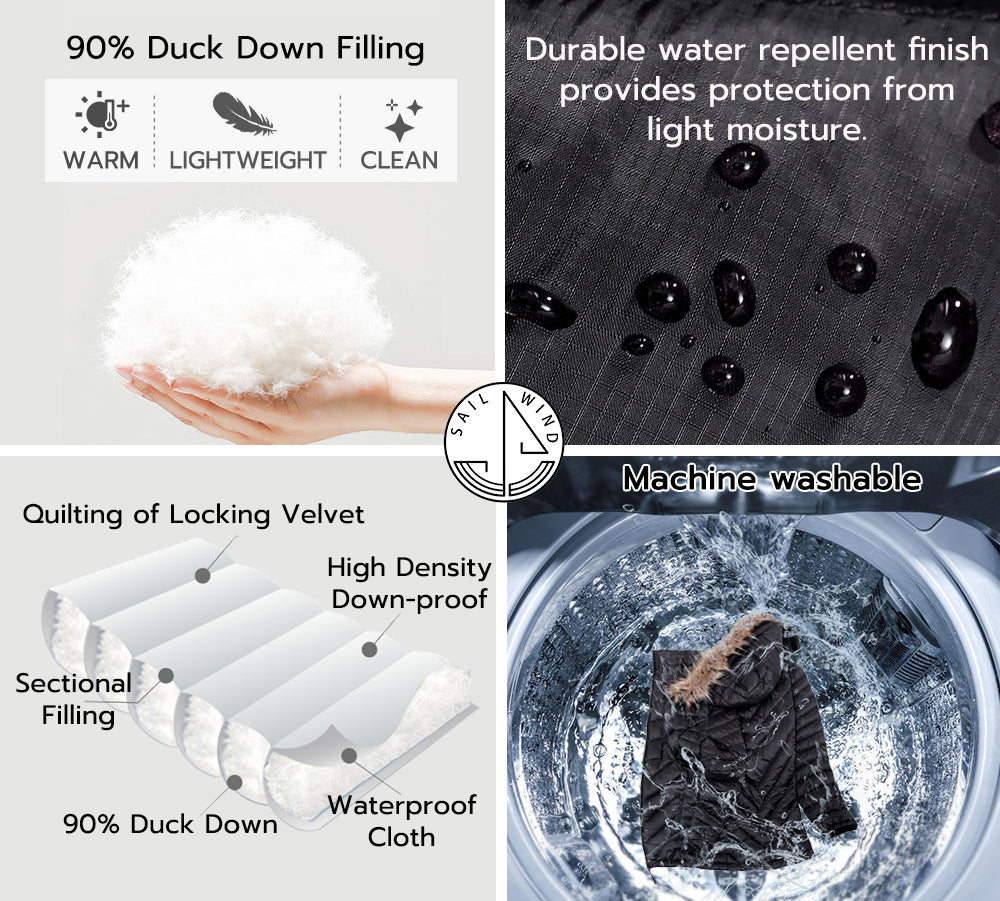 90% REAL DOWN
All Sailwind down jackets is insulated with real 750 fill down. In the mission to create superior heated jackets for women, we follow the Responsible Down Standard (RDS) requirements. RDS ensures that the waterfowl contributing to our stellar jackets are treated humanely.
DURABLE WATER-RESISTANT MATERIAL
Your Sailwind jacket is made of lightweight, breathable material with a DWR finish that sheds rain and snow and provides wind resistance. This durable down jacket is also 100% machine washable and is rated for up to 50 washing cycles.
MACHINE WASHABLE
Filamentous structures can be arbitrarily bent, the life more than 100,000 times. Good flexibility, washable.
Superior fabric and heating elements are safe for hand or machine washing and convenient as regular clothes.
.IMPORTANT: DISCONNECT AND REMOVE the battery from the zipper pocket, put the connector back, and zip up before washing the apparel.
HEATING SYSTEM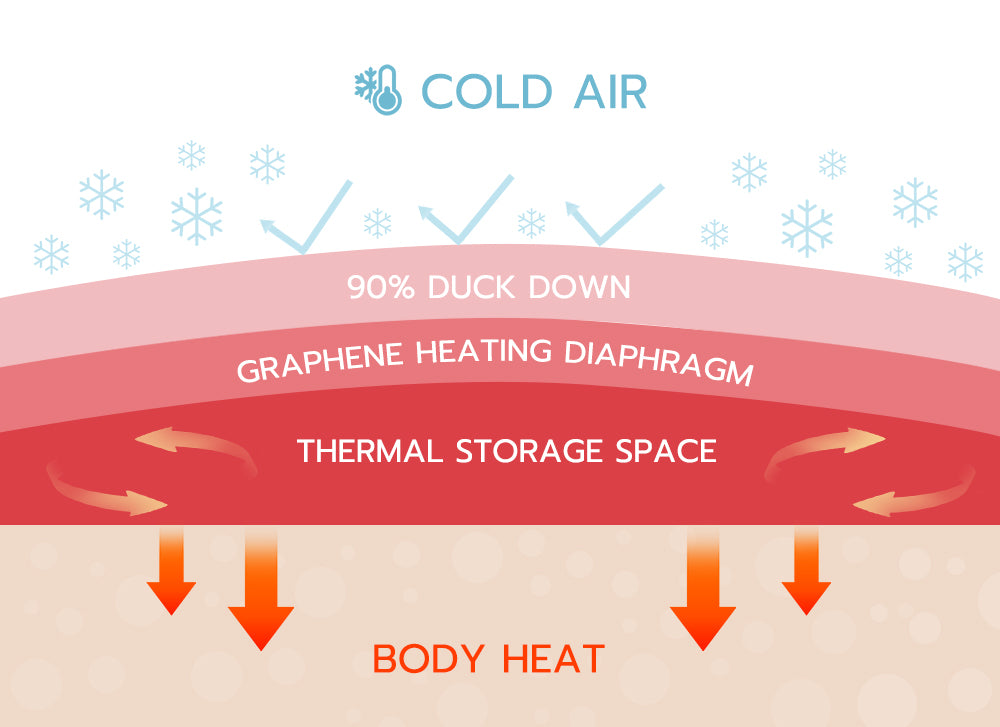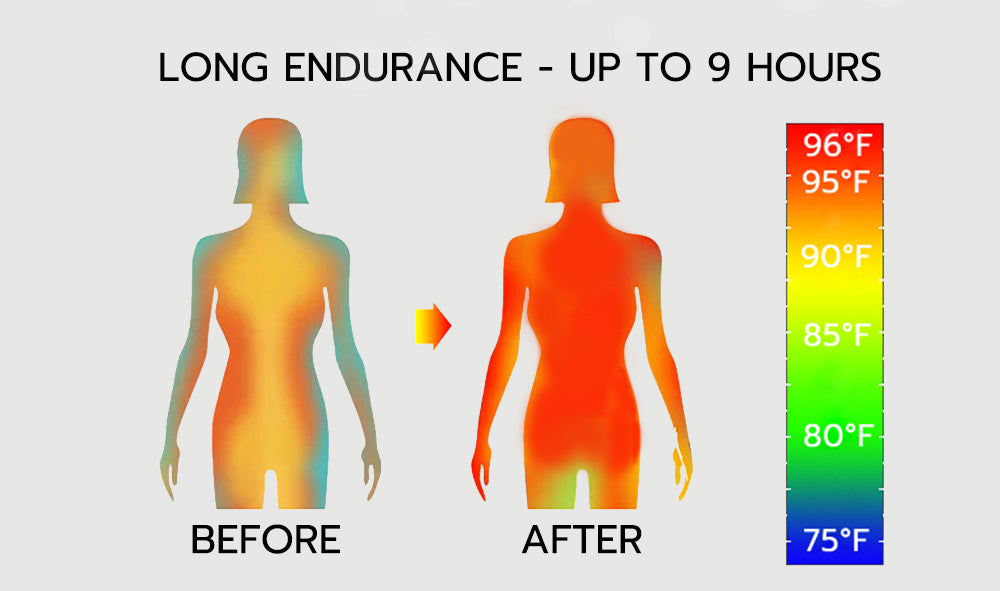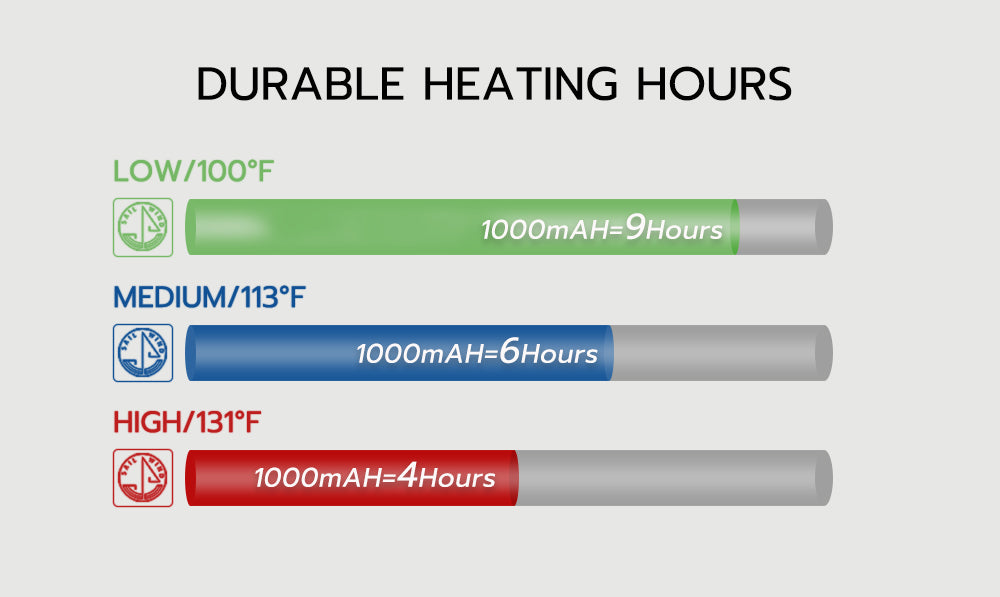 3-LEVEL TEMPERATURE CONTROL
The heated 90% down coat allows YOU to control the internal temperature no matter what's going on externally. The light on the inside of the jacket quickly indicates whether the jacket is set to a high, medium, or low setting. This gives you more flexibility to deal with temperatures and battery life.
UP TO 9 WORKING HOURS
Four hours on high(131°F/55°C), 6 hours on medium(113°F/45°C), 9 hours on low(100°F/38°C) heating settings.
P.S. All data are based on a room temperature of 77°F/25°C.
QUICK HEATING WITH A SAFE BATTERY
HEATS IN SECONDS with 5V, RoHS Compliant, and FCC/CE-certified battery.
PRODUCT FEATURES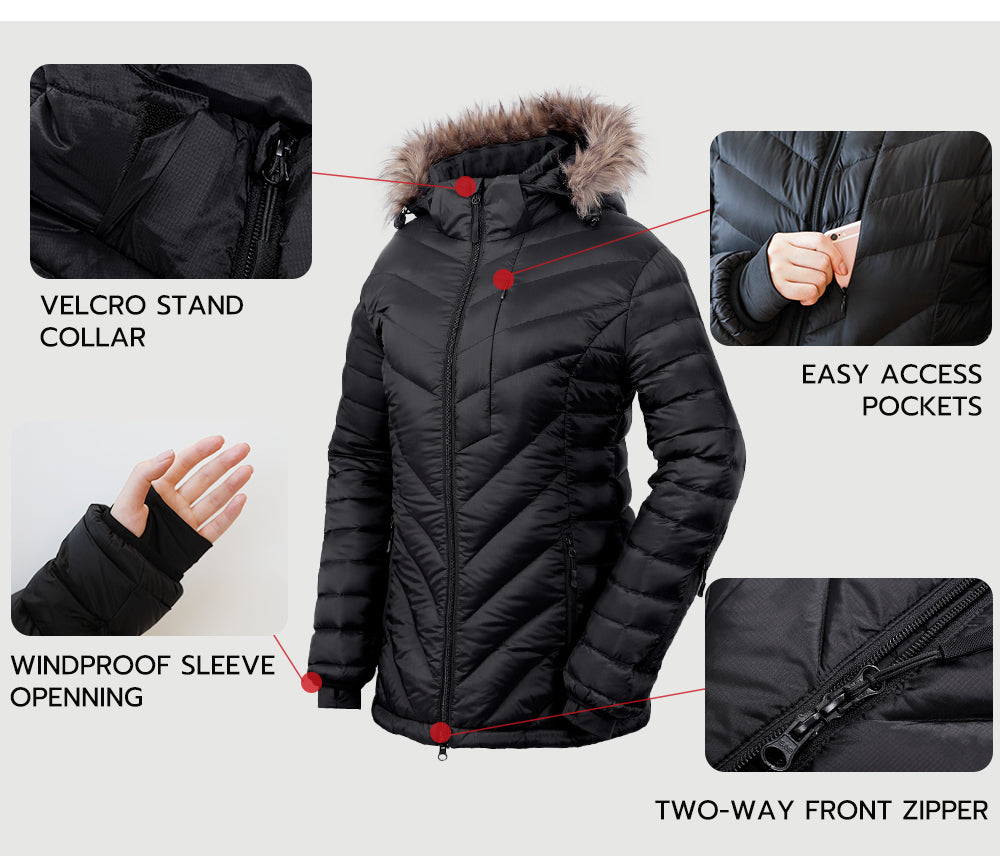 Velcro Stand Collar and Windproof Sleeve Opening.
Two deep outer side pockets with metal buttons, two easy access pockets on the left chest and sleeve, and one interior security pocket great for batteries, keys, phones, and other valuables.
This heated down jacket uses a double-ended zipper, allowing you to move freely in daily activities and outdoor sports, significantly reducing movement resistance to wear more relaxed and comfortable!
P.S. How to use the double-slider zipper: Pull both zipper pullers to the bottom and align them, then pull the upper zipper puller.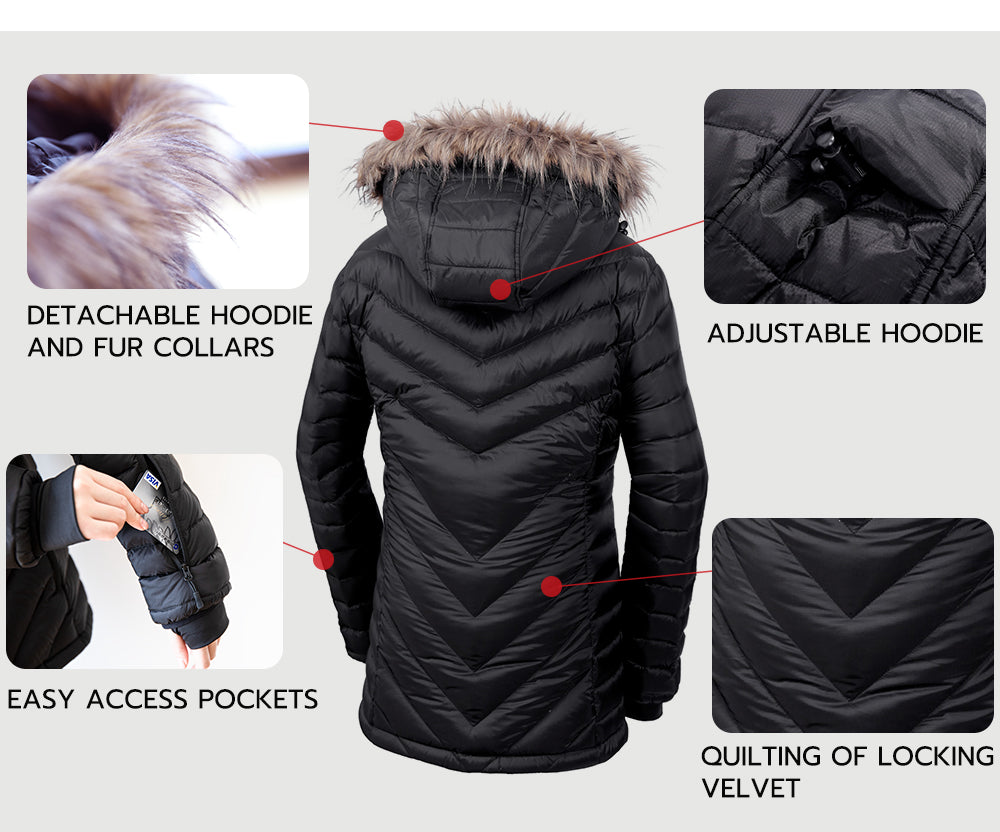 Hooded with removable faux fur trim, excellent for colder winter days. The faux fur trim is easy to attach and detach, and the faux fur does not shed.
The cap attached to this heated-down coat is adjustable to give you the most comfortable feeling.
The winter jacket is designed with ergonomic 3D-structured cutting to create a more fitted shape.
ABOUT POWER BANK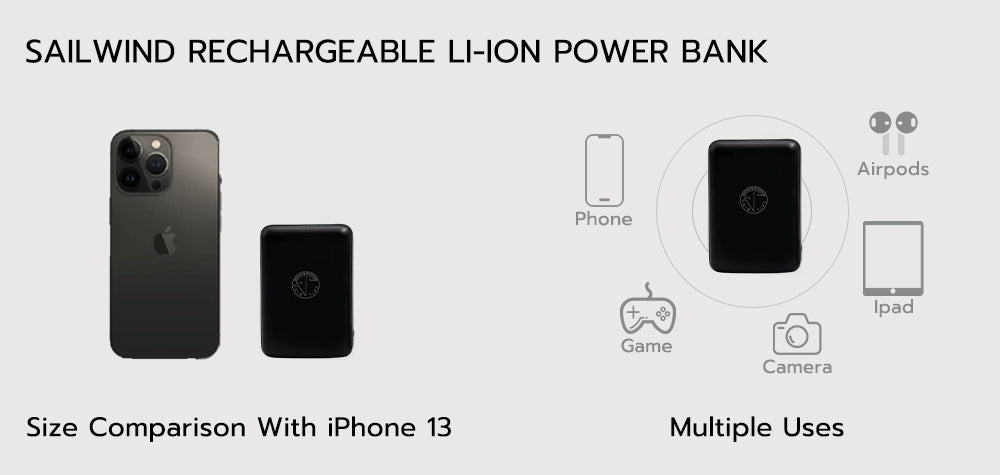 Specifications & Features
Portable Design: 3.54*2.48*0.87 inch,7.28 oz(185g)
Large Capacity: 10000mAH / 37Wh POWER BANK
4 Indicator Lights
User-Friendly Design
Charge Other Devices: The USB port can be matched with smartphones or other mobile devices
PACKAGE INCLUDES
1x Sailwind Heated 90% Down Jacket
1x 10000mAh/37Wh Rechargeable Li-ion Battery
1x Battery Charge
1x User Manual
1x Portable Bag
Care instructions