Winter is the best. But no one loves to layer themselves to avoid the cold. Well, heated clothing is the best solution. They are lightweight and warm. Best of all, they come in different styles with flexible budgets, so you can always find one that suits your needs.
What Is a Heated Jacket?
Heated clothing means you don't have to layer yourself up anymore
Nonetheless, the battery-powered one is the most popular and efficient type of heated jacket. Besides winter sports and activities, these jackets are also ideal for outdoor workers such as carpenters or construction workers.
How Do Heated Jackets Work?
Why is graphene the best choice?
There is a lot of similarity between heated jackets and heated blankets. Currently, more and more heated jackets are lined with carbon fiber wires that are heated in specific zones during production. Most of the time, they still use obsolete copper wire. And more advanced brands are now applying graphene. With a thickness of only one hundred thousandths of a hair, graphene is the lightest and thinnest material with the best conductivity and thermal conductivity, and strength 200 times that of steel, which has a clear advantage in the heating field.
Durability
Strength
Themal Conductivity
Cost Of Production
Copper Wire
First Generation
Themal Conductivity
❌
Medium
Carbon Fiber
A Great Progress
Strength
✔
Its shape and structure don't change even when a consistent and constant force is applied to it.
Themal Conductivity
✔
Good
Cost Of Production
❌
Medium
Graphene
Most Advanced
Strength
✔
225% Higher greater strength and 184% greater stiffness than standard carbon fibers
Themal Conductivity
✔
Best
Cost Of Production
❌
High
In Sailwind®, we are proud to offer our jackets with the most advanced graphene heating elements and conductive threading that is designed to last longer through the wash and daily wear. Additionally, the conductive thread has a higher rate of heat conversion than the typical copper wiring found in most heated jackets on the market today. Depending on your jacket's model and the temperature setting, the conductive threads are powered by a battery pack, which keeps you warm for up to ten hours depending on the model and heat setting of your jacket.
Are Heated Jackets Warmer than Down Jackets?
Heated jackets can heat you up in seconds
Suppose you are already cold and have a down jacket. In that case, it will be difficult for your body to heat back up quickly, as down jackets trap your body temperature inside the jacket and use your body temperature to keep you warm. During this time, Sailwind's heated jackets have the ability to control your temperature. They are designed to keep you warm regardless of what nature throws at you, and you won't have to layer up to spend hours outside.
Trust me! You don't want to layer up in winter.
How Warm do Heated Jackets Get?
How long do they last?
As with anything else, it is entirely up to the jacket and the manufacturer to choose the appropriate materials to use. It should be noted that heated jackets will reach up to 122°F on a low heat setting. On a medium setting, the temperature should be between 133°F and 144°F; on a high setting, the temperature should be around 144°F. One of the most exciting parts of owning a heated jacket is that you are able to control your own temperature. If you are too hot, you just need to turn the jacket down or even turn it off; if you are too cold, you can turn it up!
Saliwind® Heated Vest
4 Heating Zones:
4 heating zones in the core area of the body(neck, back, and abdomen).
3-Mode Temperature Control:
3 adjustable temperature modes (low level, medium level, and high level).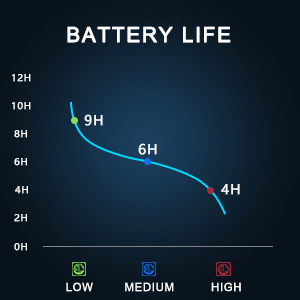 Battery Life for One Charge:
Quickly heated in seconds, can last for up to 9 hours of long-lasting warmth.
Sailwind Heated Jackets Reviews
Let's see what people say about us
Awesome for outdoors
Sailwind heated vest is excellent for fishing. It's so lightweight and I can feel clearly warm in the core area, especially the back. And I so love the feeling when I put my hands back in my pockets. It's life-saving!
Heated immediately
Long-lasting
Lightweight
Graphene heating elements
Mini-size 10000mAh Battery
Silver honeycomb™️ lining
Not expensive at all!
Limited color choice
Functions > Fashions
Being personal, I don't like power bank package in the back, but honestly I don't know if they don't put it there then where should be. Anyway, it might be a shortcoming all heated clothing should bear, at least its battery is really small and lightweight!
Stay Warm Outdoors!!
You may also like: Are Graphene Heated Jackets Safe?
How to Use Heated Jackets | 5 Tips for Beginners