Over the past few years, the heated vest has become increasingly popular when it comes to staying warm in cold weather conditions. One model that has caught many's attention is the Milwaukee M12 Heated Vest which has gained a reputation for its quality and reliability. Users of this heated vest can stay warm and comfortable even in freezing temperatures with the use of battery-powered heating technology.
Although the Milwaukee M12 Heated Vest is more expensive than other heated vests available, it has gained a reputation for quality and durability. The Milwaukee M12 Heated Vest may appear to be just another winter vest at first glance. Still, its rechargeable M12 REDLITHIUM battery sets it apart from the competition, along with the carbon fiber heating elements strategically placed throughout the vest, providing warmth to the chest, back, and shoulders. There's also adjustable heat, allowing users to customize their level of warmth.
This comprehensive review will examine the Milwaukee M12 Heated Vest, along with its features, performance, and value. This review will provide you with all the information you need to make an informed decision whether you're thinking of buying the Milwaukee M12 Heated Vest or simply looking for more information about heated vests in general.
The unboxing of Milwaukee
All the items in the Milwaukee Heated Jacket Kit were individually wrapped, packaged, and arrived in a red cardboard box. Upon unpacking, I found the jacket to be folded neatly inside, along with an instruction guide and warning regarding the heating system. A 30-minute quick-charging unit is also included with the kit, along with the M12 heated jacket, the M12 battery holder, and one M12 Red lithium battery.
At first glance, the Milwaukee M12 cordless heated jacket might seem like any other sporty soft shell jacket, but upon closer inspection, we noted some things that made it stand out. A 95% polyester/5% spandex outer shell makes this jacket both comfortable and high quality. In addition to being water and wind resistant from the polyester, the jacket is soft and slightly stretchy thanks to the spandex. In terms of pockets, one pocket is located on the upper left side of the chest, while there are two hand pockets on either side. There are zippers on all pockets. All the zippers felt durable, and the nylon braided rope pulls on each one is a nice touch. Wind and warmth can be kept out and in with trim cords inside the waist hem.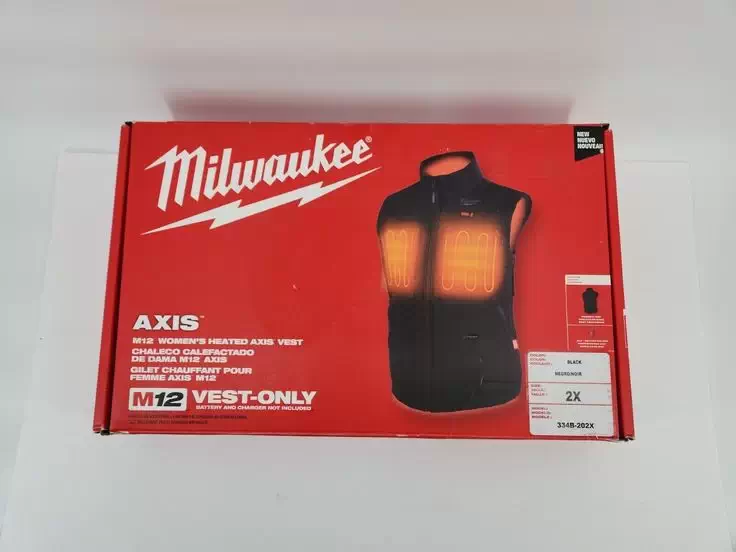 Overview
After unboxing the Milwaukee M12 Heated Vest, taking a closer look at its features and construction provides a better understanding of its capabilities. We did a quick test of putting it on, and one important thing to keep in mind about this jacket is that it tends to be on the larger side. As far as I understand, this is for accommodating additional layers, which makes sense. It is recommended that you go down a size if you will not be wearing layers underneath.
Using the heating function and connecting the battery took some time for me to figure out. My first attempt was to figure it out on my own without looking at the directions. I did not read the instruction manual until I got back into the box. It turns out that a secret compartment to house the battery is right next to the left front pocket on the jacket.
As soon as I figured out how to do that, setting up was a breeze. Controls are located on the left breast. They control a carbon-fiber heating element in the pockets, while the other is in the chest and back. You keep your core warm by using these heating elements, which in turn warm your extremities.
There is very little to learn about operating the jacket. Both can be turned on with one long press, and the level of heat can be modulated with a few quick presses. The controls that are on the left side of the chest above the pocket control three heat levels. For about 5 minutes, the jacket will preheat when you hold down the button for about 3 seconds. The jacket will automatically adjust to the Medium heat setting as soon as it has been preheated. By cycling the power button, you can adjust the temperature at any time. Users can select from three different heat settings by pressing the power button: low (blue), medium (white), and high (red). It is the warmest at the first tap, slightly cooler at the second, and the coolest at the third. You can tell which setting is on by the colors of the buttons: red, white, and blue. Heat settings correspond to the warmth of the light. For a finishing touch, Milwaukee's logo is embroidered near the collar on the upper back and next to the upper pocket on the front.
Milwaukee Heated Vest Actual Use and Testing
As far as testing and using the Milwaukee heated jacket, we have worn it in various outdoor activities while working in cold and even skiing, snowshoeing, and hiking for the past couple of weeks. When it came to cold weather conditions, the vest provided warmth and comfort in all cases. The temperature settings were easy to adjust, and the vest quickly heated up, providing much-needed warmth in a matter of seconds.
In terms of comfort, it has proven to be a very good coat. The vest's lightweight and sleeveless design allowed for a full range of motion and did not interfere with any outdoor activities. Our Milwaukee M12 heated vest made putting on another sweatshirt or windbreaker unnecessary during cold or rainy weather since we could simply turn the heating zones on to a comfortable setting.
The heating elements are strategically placed, providing an even distribution of heat throughout the vest and keeping the core area warm and comfortable. As a result of the three sewn-in carbon fiber heating zones, you will not get chilled or damp when wearing this jacket in the cold or rain like a typical vest or jacket. The vest's water-resistant fabric proved to be helpful, keeping the wearer dry during snow and light rain. The vest's zippers and buttons held up well, even after prolonged use, and the fabric showed no signs of wear or tear.
Using a fully charged Red Lithium battery, we timed the vest's run-time on each setting. We found that it runs for five and a half hours on low, 2 hours and 45 minutes on medium, and 1 hour and 50 minutes on high. The M12 cordless platform is probably why the heated jacket could be a bargain for anyone who is already using the platform and has spare batteries. Although this isn't the first heated jacket on the market, it is the first heated jacket that uses a cordless power tool battery.
On the Milwaukee heated vest, the battery pocket is conveniently located, so we often forget that it was even there (until the battery ran out of power). As the battery weighs only 8.4 ounces, we had no problems with it shifting the coat while we were wearing it. An elastic strap is attached to the zippered battery pocket, holding the battery firmly in place and preventing it from shifting around. Since the battery can be easily installed and removed, we always pack a spare battery whenever we are going to be working outside for a long period of time.
However, one thing to remember is that the inner liner material of some jackets sticks to whatever you are wearing, making taking them off a pain.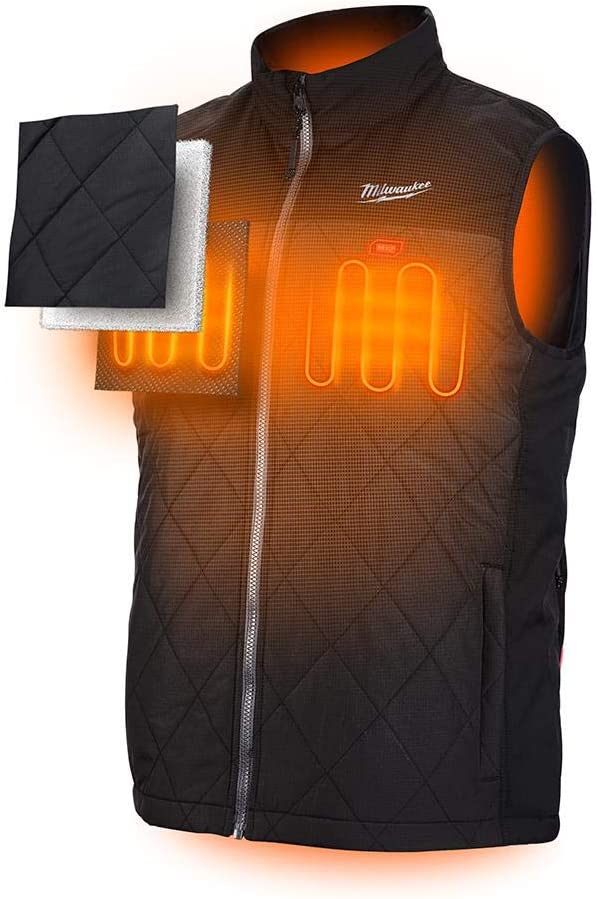 What We Like about Milwaukee M12 Heated Vests
Let's first discuss how this vest works as a vest before getting to the bonus features. There are many things to like about the Milwaukee M12 Heated Vest. Even without using the heating elements, the Milwaukee M12 Heated Vest is comfortable, has plenty of pockets, and is definitely something you should wear. One of the standout features is the vest's heating technology, which uses carbon fiber heating elements to provide even and consistent warmth to the chest, back, and shoulder areas. The heating elements are powered by a rechargeable M12 REDLITHIUM battery, which provides up to six hours of heat on a single charge.
The heat function seems underwhelming to me at first. As far as zoning is concerned, I can compare it to the way the sun creates hot spots on your clothing when it breaks through clouds on a winter day. It's nice to have, but it doesn't seem like a big deal. It is important to remember that when it is below 10 degrees, the difference can be very significant. I wore this vest most of the time with a hoodie or a thick long-sleeved shirt. I found that the combination was enough to keep me warm until the temperature dropped into the 20s before needing the heating element. It is a lovely touch to have the pockets heated. When my hands get cold from handling cold metal, I can quickly regain feeling with heated pockets. The pockets also served as a place to store small tools and wrenches. Considering that sharp metal edges could possibly contact live electrical components, I'm not sure it'd be wise to do so.
The vest's temperature control button is another feature that we like, as it allows the user to adjust the heat settings easily. It is handy when the temperature frequently changes, providing the user with instant warmth when needed.
Its durable and water-resistant ripstop fabric makes a big difference for outdoor activities in harsh weather conditions. The fabric is designed to resist tears and rips, ensuring that the vest will last for many years. The fabric shows dirt, but it's machine washable.
The vest's lightweight and sleeveless design is also worth mentioning. It allows for a full range of arm motion, making it perfect for outdoor activities such as hiking and skiing. The vest's design also makes it easy to layer under other clothing, providing an extra layer of warmth when needed.
As for the fit, the Milwaukee M12 Heated Vest is available in different sizes, ensuring a comfortable fit for all users. What I like is that it does not limit motion whatsoever. When I worked with my arms over my head or in any other awkward position, I didn't feel restricted despite wearing layers of clothing. It is somewhat bulky in tight spaces, making it difficult to use. The vest's sleek design and black color make it stylish and versatile, suitable for both casual and outdoor wear.
A well-designed, high-quality piece of cold-weather gear, the Milwaukee M12 Heated Vest provides ample warmth and comfort in harsh conditions. Its advanced heating technology, durable construction, and user-friendly features make it a popular choice.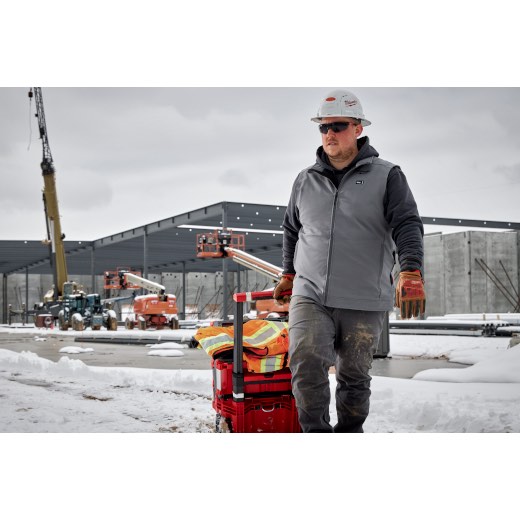 What We Dislike about the M12 Heated Vest
Although the Milwaukee M12 Heated Vest boasts several excellent features, there are a few drawbacks to be aware of before purchasing it.
One of the most significant issues I encountered while wearing this vest was the placement of the battery. If you're a mechanic or frequently work on your back, you'll need to be mindful of the bulky battery, which can cause discomfort. While it won't necessarily deter you from wearing the vest, you'll need to exercise caution. Since the front left pocket and battery compartment are connected, you can quickly adjust the battery's position before lying on your back. However, this is a double-edged sword, as the connection allows the battery to shift around. Furthermore, leaving the front pocket unzipped and bending over can cause the battery to slip out of its compartment.
When considering the vest, it's essential to also take into account the fit. For some users, the fit of the vest may not be ideal. It is roomier than most, which may be uncomfortable for those who prefer more form-fitting clothing. Personally, I wore the vest with just a T-shirt when it was around 15 degrees outside, and it felt great until I bent over. At that moment, I experienced a blast of frigid air. This experience prompted me to add a set of bibs and a thermal layer. However, on 40 to 50-degree days, I found that wearing just the vest with a T-shirt was comfortable. Overall, the vest seemed like a great option for fall, winter, and early spring.
While the vest's heating technology is effective, it may cause discomfort or irritation for users with sensitive skin. The heating elements can become quite warm, and prolonged exposure to the heat may cause discomfort.
Although the issues with the Milwaukee M12 Heated Vest are relatively minor, the price is a more significant concern. The vest, complete with batteries, costs about $285, making it rather expensive compared to other heated vest options on the market. This may be a limiting factor for those on a budget or those who only need occasional use. While this cost is about what you would pay for a pair of work boots or tools, those are necessities, whereas a heated vest is a luxury. As I previously mentioned in another article, readers have reported that cheaper alternatives, like the Sailwind Heated Vest, work just as well.
Overall, while the Milwaukee M12 Heated Vest has many great features, it may not be the perfect fit for everyone. Its price point, the potential for skin irritation, and form-fitting design may be concerns for some users. However, for those who prioritize warmth, comfort, and durability, the Milwaukee M12 Heated Vest remains a great choice.
Conclusion
Not having a heated vest won't prevent you from getting the job done, but owning one can make a significant difference in your working experience. The Milwaukee M12 Heated Vest is a reliable, high-quality vest that provides warmth and comfort in cold weather conditions. Its advanced heating technology, durable construction, and user-friendly features make it a popular choice among users who need reliable cold-weather gear.
However, it's something other than what I would regularly buy. I already have work vests that work just fine and some nicer ones that are one oil stain away from joining the lineup. That $285 is a lot of money, and I would rather spend it on other tools. It's a solid work vest even without the heating system. Durability, comfort, and practical features such as wind and water resistance are all things you want from a work vest. It is a little more expensive than many other options but is part of Milwaukee's M12 system.
The fact that it shares the same battery with many other tools you might buy anyway makes it worth that little bit extra. The placement of the battery and the potential for skin irritation may be drawbacks. Still, the Milwaukee M12 Heated Vest remains an excellent choice for those who prioritize warmth, comfort, and durability. Overall, it is a worthwhile investment for anyone needing a reliable, high-quality heated vest.
Whether you're a hiker, skier, or simply someone who wants to stay warm while outdoors, the Milwaukee M12 Heated Vest is a great investment. Its durable construction, adjustable heat settings, and sleek design are sure to keep you warm and comfortable even in the coldest weather conditions. So, if you're looking for a reliable and effective heated vest, the Milwaukee M12 Heated Vest is worth considering. Additionally, you can consider cheaper alternatives such as the Sailwind heated vest or heated jacket.
Related Websites
What is the best heated vest for hunting and fishing?
Top 5 Heated Golf Vests of 2022, Tested and Reviewed
M12 HEATED TOUGHSHELL VEST PRODUCT DESCRIPTION