Heated clothing, including heated jackets, vests, hoodies, etc., is a great companion for us in winter. You don't have to layer yourself up but keep warm with a graphene-heated jacket and a small battery. However, heated jackets and vests are a long-lasting investment worth you choose carefully. Read this guide to heated jackets before you buy one.
Before You Buy Your Heated Clothing
Read this guide carefully
Here are a few factors to keep in mind while buying the perfect heated jacket for yourself.
Heating Elements
A heated jacket is usually made up of carbon fiber, Graphene, or steel plates, the most common heating elements used.
A heated jacket made of steel plates is rigid and must be washed by hand, while an alternative made of Graphene or carbon fiber is more flexible and efficient.
In addition to these features, these materials are also lightweight. You can wash them as long as you follow the instructions that are given by the manufacturer, provided you follow them.
Durability
Strength
Thermal Conductivity
Cost Of Production
Machine Washable
Graphene
Most Advanced
Strength
✔
225% greater strength than carbon fibers
Thermal Conductivity
✔
Best
Cost Of Production
❌
High
Machine Washable
✔
Machine Washable
Carbon Fiber
A Great Progress
Thermal Conductivity
✔
Good
Cost Of Production
❌
Medium
Machine Washable
✔
Machine Washable
Copper Wire
First Generation
Thermal Conductivity
❌
Medium
Machine Washable
❌
Wash By Hand
Further Readings:
Graphene-Reinforced Carbon Fiber Is 225% Stronger And 184% Stiffer
Battery
I suppose the battery's voltage determines how effective the heated jacket will be. The higher the battery voltage, the warmer the jacket will be.
Before making a purchase, we recommend you check the product description to ensure that the product's voltage is high enough.
The capacity of batteries is indicated as XXXX mAh (milliampere/hour), which represents how long a battery can sustain a constant discharge of electric energy in milliamperes. Whether for smartphones, power banks, or any other battery-powered device, the mAh number often defines how much power you have in reserves and how long you can use your device. A battery with a higher mAh will last longer than a battery with a lower mAh. For example, a 10000mAh battery will heat your jacket longer than a 5000 mAh battery at the same temperature.
Additionally, the type of battery also influences the efficiency of the jacket.
Opt for lithium-ion batteries for heated jackets since they provide better performance and are a reliable power source.
Rechargeable Lithium-ion Battery 10000mAh
Portable Designed: 3.54*2.48*0.87 inch, 7.28 oz; User-friendly design, round corners. Large Capacity: 10000mAh/37Wh; A single charge lasts up to 9 hours…
Material
It is then up to you to decide the type of material you would like to use for the coat or shell once you have decided which heating element is right for you.
Manufacturers commonly use polyester to create the outer layer of heated jackets since it warms up quickly and adapts to your body's heat.
Plus, it's weatherproof and will work against rain and harsh wind.
Safety
Understandably, some people may be concerned about heated jackets' safety because they are electrically constructed. However, this should not be a worry for you.
It is a common misconception that heated jackets are a danger for electrocution. Yet, this is not true, as most of them are powered by batteries under 10 volts.
Plus, the batteries are always less than 12V DC with a frequency of 0Hz, so you don't have to worry about high-frequency EMF radiation.
Other than that, the panels used on heated jackets won't catch fire or absorb moisture since they have a waterproof membrane protecting the wires.
Related Articles: Are Heated Jackets Safe? 5 Most Common Questions People Have
Other Features
While it is true that heated jackets do a great job of keeping you warm, it doesn't mean that you should give up other features that you would get in a traditional coat just because heated jackets do an excellent job of keeping you warm. Instead, opt for heated jackets that offer added benefits such as extra pockets, hood, and other features.
4 Heating Zones:
4 heating zones in the core area of the body(neck, back, and abdomen).
3-Mode Temperature Control:
3 adjustable temperature modes (low level, medium level, and high level).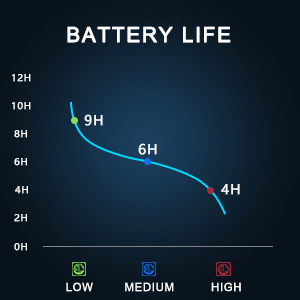 Battery Life for One Charge:
Quickly heated in seconds, can last for up to 9 hours of long-lasting warmth.
Frequently asked questions about heated jackets
Find out the answer with us
Here are the answers to the most frequently asked questions about heated jackets.
How does heated clothing work?
Generally speaking, heated clothing is constructed in a way that is quite simple.
The moment you realize your muscles are no longer providing sufficient heat because of the freezing weather outside, you can press the button on your power bank, which will activate the batteries.
Those batteries will transfer the power from the battery to the wires and heating element incorporated into the heated jacket. As a result, the heat will be distributed evenly throughout the entire article of clothing.
What is the Sailwind jacket made of?
If you've been reading about heated jackets, you've probably heard about the famous Sailwind jacket. But what exactly is it?
The Sailwind jacket comprises Graphene, the strongest and most flexible material since it consists of a single layer of carbon atoms.
In fact, Graphene is so strong and indestructible that two layers of this material can withstand the impact of a bullet.
Can I wear a heated jacket anywhere?
We recommend wearing heated jackets while performing outdoor activities in the extreme cold.
However, if you're traveling to a place with no electricity, it's best to keep some extra batteries at hand.
Conclusion
We recommend the Sailwind heated vest & jacket
With their efficient technology and versatility, there's a lot to like about heated jackets. Other than being practical, they're fashionable and timeless too!
So, if you're looking to invest in a heated jacket for your winter wardrobe, we wouldn't recommend anything other than the Sailwind Jacket.