If you would like to ensure that your heated jacket or vest looks just like new, there are only a few steps that you will need to follow. You will find that it is much simpler than you think. The purpose of this article is to provide you with some common tips and tricks regarding how to wash and care for heated jackets. We will also cover some tips and tricks on how to clean your heated jacket.
Can you wash heated jackets?
Heated jackets and vests have electrical components inside, along with battery packs, but that does not mean that you cannot wash them. In fact, almost all heated vests and jackets can be hand-washed, and many can be machine-washed.
I am pleased to let you know that there is no need to be afraid of washing your Sailwind heated jacket! As long as you follow the instructions below, you will be able to clean your Sailwind heated jacket. You will need to take special care when washing your coat, so please make sure you follow them all.
Why can you wash heated jackets?
The fact that water and electricity don't mix well makes it reasonable to be skeptical about their safety. It is important to note that even though getting wet will not damage the jacket, we recommend taking it off immediately and disconnecting the battery if it gets soaked inside. There's a temperature control that is embedded within the jacket, but you don't need to worry since it is waterproof. A washing machine is usually equipped with features to accommodate waterproof garments, and modern waterproof garments are designed to be washed in a washing machine. If you follow the instructions on the washing label on your garments and use the appropriate settings on your washing machine, you will be able to ensure your garments are protected from damage at the time of washing.
How to wash your heated jacket
Firstly, make sure that you empty the pockets on your clothing. Don't forget that you can't submerge your battery in water, so be sure to do this!
Put the connector cable inside the pocket and close it.
It is recommended that you place your heated clothing inside a mesh laundry bag. The clothing should be handled carefully because heated clothes are delicate.
Wash in the washing machine
If your washing machine has a setting for waterproof clothing, you should use it! If it doesn't, use the delicates, silks, synthetics, or wool settings, which are often good and won't be too intense. Use your washing machine on the cold/gentle setting. Do not dry clean. Do not use bleach.
Care Instructions for your heated jacket
Here are links to care guides from popular brands that produce heated jackets and vests:
Step 1: Take out the batteries
Step 2: Put the USB cable in the pocket
Step 3: Zip up the pocket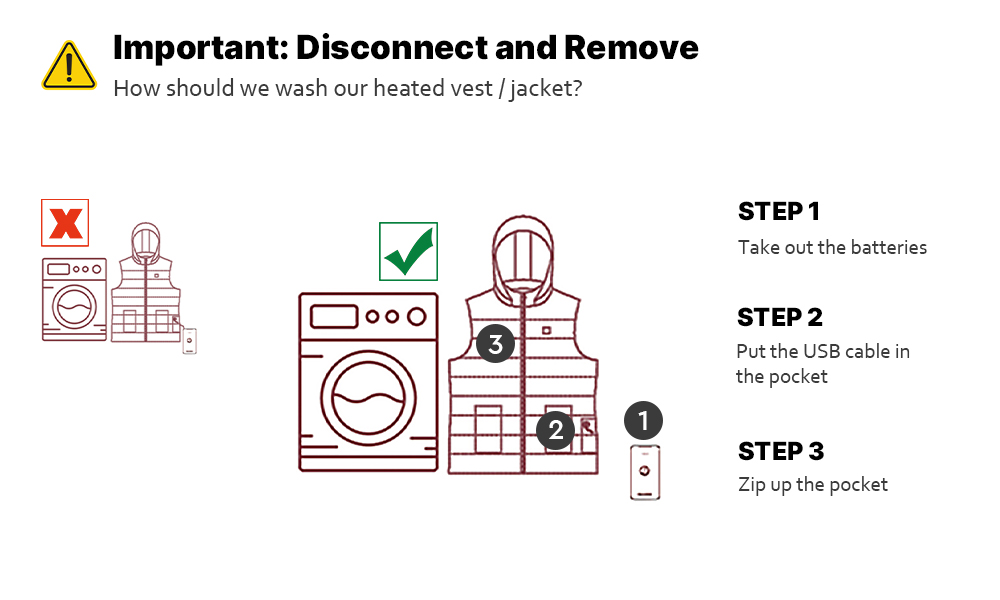 Step 1: Before washing, disconnect and remove the battery pack and battery holder from the battery holder pocket.
Step 2: Push the power cord completely into the battery holder pocket and fasten it closed.
Step 3: Follow Care Instructions on jacket tags. Machine wash, Gentle Cycle in warm water. Tumble Dry Low heat.
Do not iron. Do not wring or twist.
Do not dry clean. Do not use dry-cleaning fluid on this heated jacket.
Do not bleach. Clearing solvents may have a deteriorating effect on the insulation of the heating element.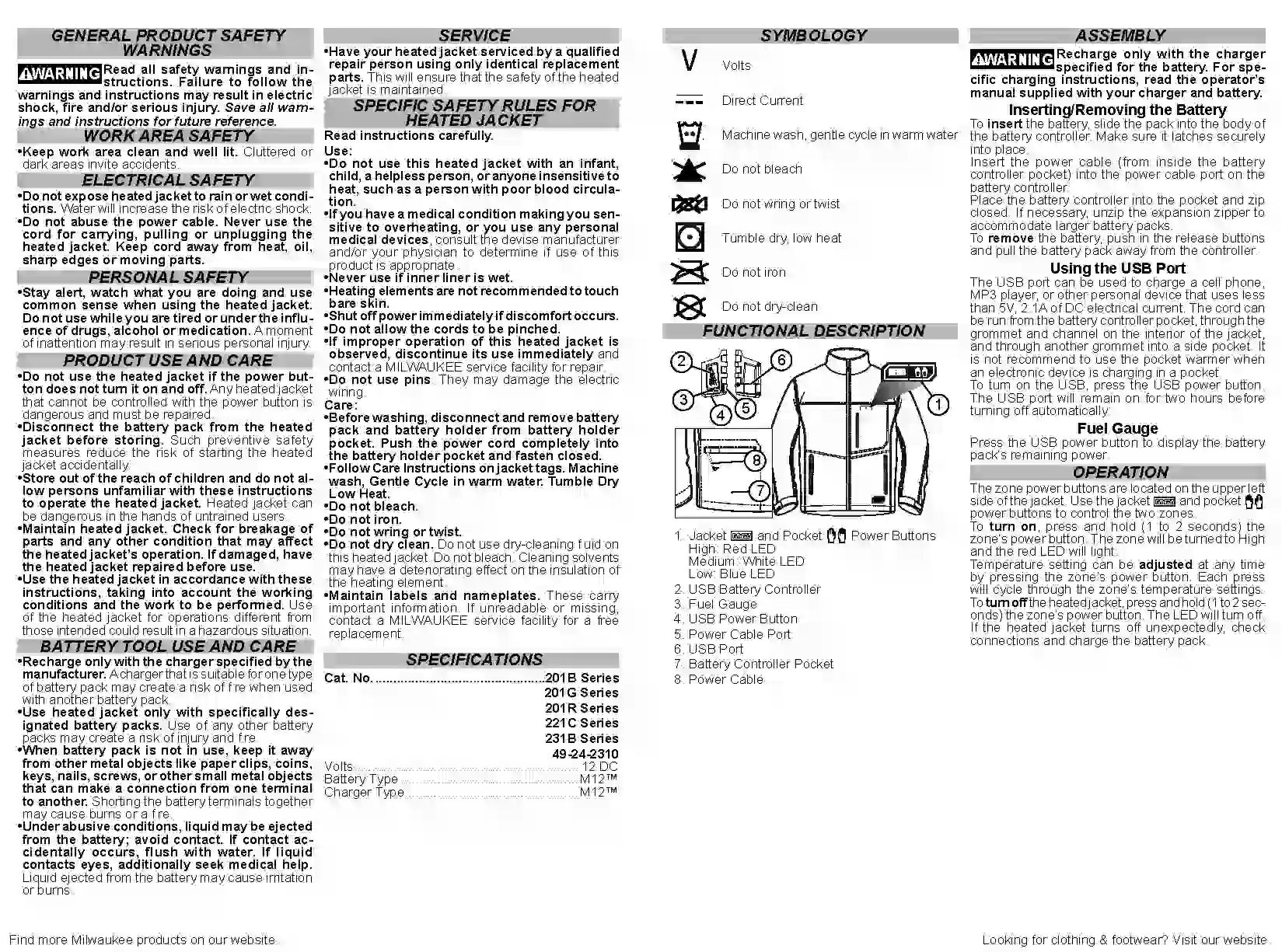 To reduce the risk of personal injury or damage to the heated jacket ALWAYS disconnect the power jack from the DCB091 USB power source and remove the battery pack and DCB091 USB power source from the battery/ power source pocket before performing any maintenance or washing. Follow the CARE label attached to the heated jacket.
Wash and Dry according to the garment care tag.
Use a commercial liquid soap product. Do not use fabric softeners, biological powders, or strong detergents.
DO NOT dry clean. DO NOT use bleach. Cleaning solvents may damage or lessen the effect of the jacket's insulated heating element.
DO NOT iron or press.
When using the USB charging ports it is recommended to put the USB power source in the designated power source pocket.
Step 1: Disconnect and remove the battery from the zipper pocket.
Step 2: Make sure you put the connector cable back and close the zipper pocket.
Step 3: Place your jacket inside a mesh laundry bag.
Step 4: Machine-wash it.
Step 5: Dry it.
Step 6: You're all set!
Tuck plugs into its zippered pockets and close zippers. Check pockets for any other items you may have left in them and remove them.
Use a clean sink and fill it with lukewarm or cold water. Put in a few drops of mild detergent.
Gently swirl the clothing in the sink so that it gets soaped up. Rinse again thoroughly with clean tap water until no more suds are visible. GENTLY squeeze out the water; do not wring or twist.
Allow the garment to completely air dry before using.