Function Introduction
Portable Designed: The battery is portable designed (3.54*2.48*0.87 inch,7.28 oz) and user-friendly designed with rounded corners, be more comfortable when used for heated vests/heated jackets, specifically matched for Sailwind heated vests, and also suitable for other brand heated apparel.
Large Capacity: The capacity of the rechargeable Li-ion Battery is 10000mAh/37Wh, which can heat the vest in seconds, a single charge can usually last up to 9 hours of warmth.
Widely Compatible: Multifunction USB charging, the USB port of the power bank can be matched with smartphones or other mobile devices.
4 Indicator Lights: 4 indicator lights(25%,50%,75%,100%) on the power bank, you can check the remaining power right away by pressing the button in the middle of the battery.
Certified Safe: FCC certified, the Certificate No is SIT200722010101F, which provides more protection for you.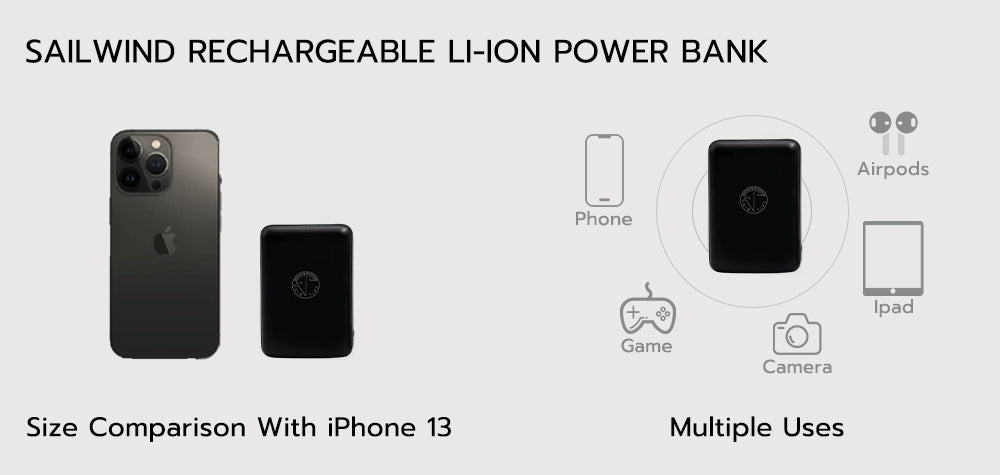 Technical Specifications
Portable Design: 3.54*2.48*0.87 inch,7.28 oz(185g)
Large Capacity: 10000mAH / 37Wh POWER BANK
4 Indicator Lights
User-Friendly Design
Charge Other Devices: The USB port can be matched with smartphones or other mobile devices